Creating the world class project manager
More project managers are gaining certification, but many organisations still report little movement by way of project management maturity and improved delivery.
Project management success is traditionally defined as one in which a project is delivered within time, agreed budget and according to requirements. In today's complex delivery environments however this definition is insufficient. Not only must we consider the technical factors associated with delivery, but one would add more importantly the behavioural elements and dynamics of the project manager and team to function and deliver effectively.
Project manager effectiveness
The PMO Executive Council conducted an extensive survey of more than 2,000 people, and identified the drivers of effectiveness for project managers. The top ten Project Manager Effectiveness Importance Factors were:
Process Based
Ability to meet internal deadlines
Mitigates project specific risks
Aligns project with organisational strategy
Connects project to broader organisational goals
Assigning the right people to the right tasks
Understands project interdependencies
Evaluates team competencies
People Based
Logically solves problems
Is passionate to succeed
Brokers consensus among stakeholders
The identified factors have a high focus on project management process. The challenge is one that states that an average project manager can possess the process attributes and still not be successful in delivery. What is missing is effective leadership capability founded on the development of behavioural skills and the use of emotions to support the successful delivery of projects.
Effective leadership
Consider Figure 1, which shows a relationship between the skill sets of 'Task, Process and Outcomes' and 'People, Relationships and Emotional Management'.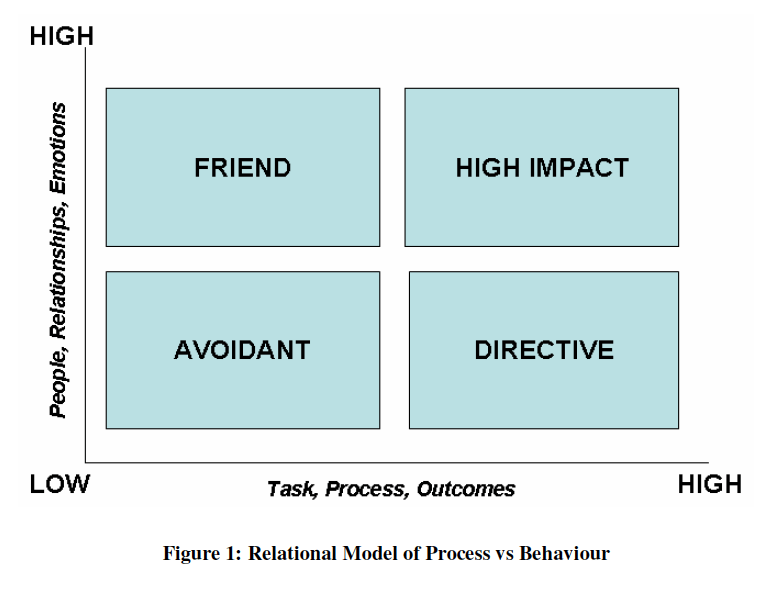 Where the task or process skill set is low and the people, relationships and emotional skill set is low, the resulting behaviours is that of avoidance of either task or leadership towards delivery. An avoidant leader can also be aversive, engaging in intimidation, and dispensing reprimands.
Where the task or process skill set is low yet the people, relationships and emotional skill set is high, the resulting behaviour is delivery is achieved through friendship rather than leadership. Tasks are not typically done in a timely or quality manner impacting on cost.
On the other end of the scale, where the task or process skill set is high yet the people, relationships and emotional skill set is low, we encounter delivery via directive leadership. This is often the case with technical project managers; this type of leader tends to issue instructions and commands and assigns goals.
In the top right is High Impact leadership, those that inspire, engage and motivate. It represents project managers with task capability as well as people, relationships and emotional skill set. A High Impact Leader is one who demonstrates both technical competency as well as behavioural competency.
Leaders must create climates that foster not only performance but also pride and purpose. They must have emotional intelligence: a heightened sense of self awareness, the ability to manage their emotions as well as those of others, to build rapport and relationships with a diverse group of people ranging from the sponsor, project team and a myriad of stakeholders; to motivate others, create a believable vision for the project, and negotiate a broad range of situations impacting on the project or program.
Emotional Intelligence (EI) contributes to a number of important workplace performance indicators including: leadership style and effectiveness; creativity; problem solving; capability; workplace innovation; interpersonal skills; the capacity to foster positive relationships with work colleagues; motivation and enthusiasm; and team productivity.