Project management software review: Nutcache
As a content marketing analyst and strategist, I have conceptualised, managed and executed hundreds of content marketing campaigns over the years. Although I have used the old fashioned way of managing projects and tasks for quite a long time (with nothing more than emails and Microsoft Office) and did it pretty well, using an agile project collaboration tool certainly has its benefits.
Digital marketing is a complex amalgamation of content marketing, SEO, link building, coding, app and website development, API integrations, social media, and a myriad forms of digital advertising. At E2M we are a full-service agency that helps our clients do all of these. It followed that our WEEP (Word Excel Email Photoshop) strategy for executing hybrid digital marketing campaigns couldn't take us far.
While project management is not a domain on which we work per se, our marketing projects for enterprise clients do warrant an extensive collaboration as well as an agile project management process.
So we realised the need for a tool that would simplify the complexity for us, without hurting the speed with which we carry out our campaigns. The popular tools—Basecamp, Asana, Trello—didn't cut it because we couldn't customise them to our liking.
We weren't in a hurry, so we tried out a few more and that's when Nutcache caught my attention. Its simple and easy-to-use Kanban boards were an ideal fit for us to manage our marketing projects. It clicked immediately because we wanted our workflow to follow this exact format: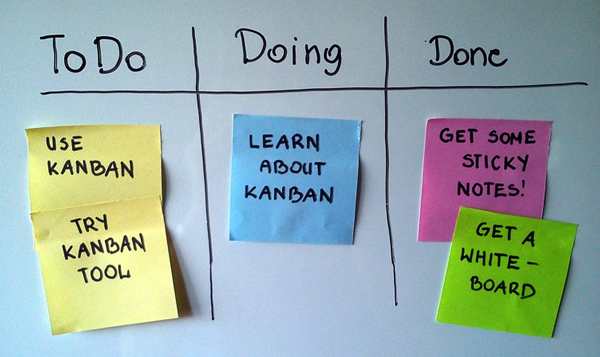 Now, we have small and collaborative teams working from remote locations in different time zones. These include our people as well as clients. What we were looking for was something that would deliver measurable results and at the same time help us respond to changes in requirements easily and in real-time.
We had to do a lot of tinkering with the available options. We started out using Nutcache for scheduling and publishing content according to the editorial calendars that we created for clients.
Content marketing projects
Just like bloggers and editors, we often find it difficult to create valuable content on a regular basis. It's kind of a brain fog that calls for group meetings and brainstorming. Moreover, we needed an organised plan that would help us measure our writers' accountability while keeping everything centralised, so that campaign managers can flesh out ideas and there is a steady flow of content.
Nutcache allowed us to collaborate on files and ideas within the collaborative boards and invite new team members as we progress. Nutcache's collaborative boards, which follow the Kanban scheduling system, are easy to use; in fact, they are very much like traditional bulletin boards, making it easier to see and understand what's going on.
We use the boards to assign and updated tasks, share ideas, see what other team members are up to, communicate with them and remind them of deadlines, and other stuff.
Since these boards are visual and simple to understand, I don't have to waste a lot of time explaining things to folks. Everything is out in the open and every team member is accountable for the task assigned to them. I can set priorities and deadlines for each task, while taking any possibility of a blame game completely out of the scenario.
Here's a snapshot of a monthly content workflow for a client.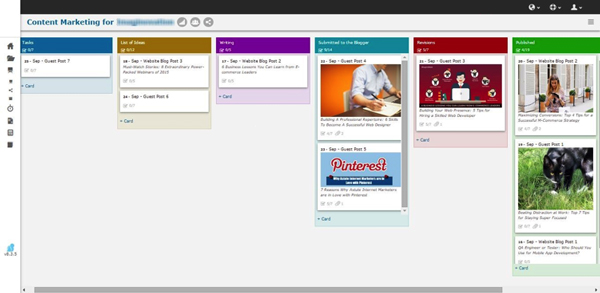 The content marketing task travels from left to right, passing through numerous 'lists' until it finally reaches its destination, the 'Published' list. This format is an intuitive and visual progression of the Editorial Calendar that our content strategist creates for clients. Nutcache's collaborative boards are ideal to give an overview of, store and organise all our content.
Task lists and work progress
In the image above you can see the workflow for a client's website blog posts and guest contributions that were published in the month of September.
Let me show you the logistics in this particular case. After the main work items and their quantities have been finalised (such as website blog post or guest post), we brainstorm ideas for all of them. We create a 'card' for each such idea, accompanied by a brief outline or description. These cards are breeding grounds for ideas. We often use them as buckets to store ideas and investigate them further to decide whether or not they will make a valuable piece of content.
Next on the item list is 'Writing'. Here we attach a detailed outline or a working draft along with a due date for completion. Then, in the case of a guest post, we have a 'Submitted to Blogger' list, which shows what articles have been submitted to which publication; details and status of requests for revisions from editors are stored on the next list. 'Published' brings up the finish line where all content ends up (we hope).
The categorised task lists of Nutcache help us follow workflows seamlessly so that we can streamline tasks and focus on what's required at the moment. These visual boards also provide a snapshot of the whole marketing project; as a result, there's a slim chance of any team member, including new ones, not being up to scratch on the status and progress of the campaign.
Once I assign a task to a team member, she can get a visual combination of mind map and roadmap of what's going on with just a cursory look at the appropriate collaborative board. Of course Nutcache also allows to make a board private, if required.
The following image shows the activity flow for each task item shown in the previous screen.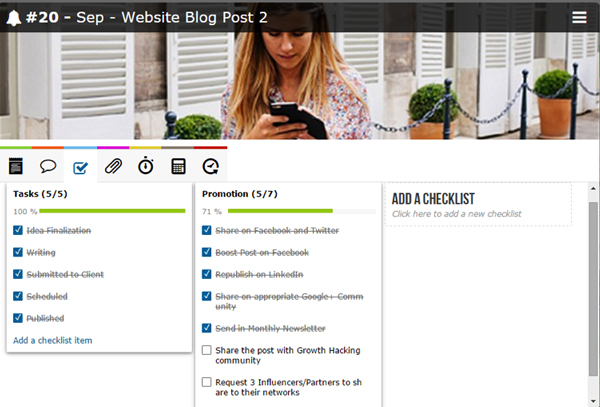 A task item like 'Website Blog Post #2' can pass through multiple workflows, e.g Publication and Promotion.
Activity tracking
Finally, Nutcache allows me to track engagement or activity for each content marketing project. These sub-tasks are shown in the form of, you guessed it, a list.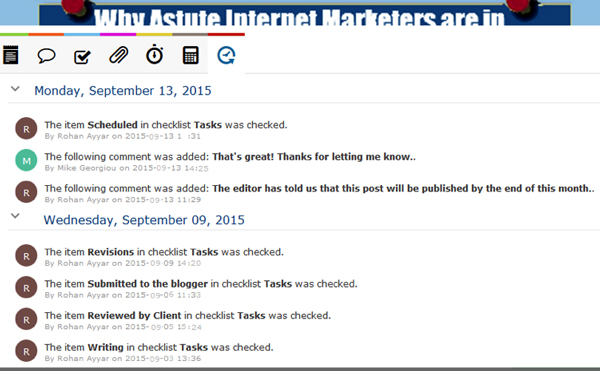 You can also set the estimated time and due date for each sub-task, colour-code the progress, and further distinguish them by their category i.e. guest post, website blog post, press release and so on.
Multiple team members, such as writers or the client, can updated and share their thoughts on each sub-task in a list. Moreover, everyone is on the same page and aware of delivery dates well in advance, meaning there are no missed deadlines.
After using Nutcache for the past few months, I can attest that it is a complete project management solution. We have connected and collaborated with multiple vendors and clients, created real time workflows with inputs from large teams, whizzed through daily to-do lists, measured individual efforts to a great degree of precision, and got more things done in general. Better yet, we have not only anticipated possible issues and risks in campaign execution, but have also mitigated them successfully.
For more information on Nutcache visit www.nutcache.com