Effective benefits realisation for portfolios, programs and projects
This is a companion piece to Articulating business benefits for portfolios, programs and projects
Effective benefits realisation in the portfolios, programs and projects (P3) environment requires the establishment of clear business intentions through rigorous testing of the business objective via quantitative or qualitative analysis.
It is increasingly important that the various potential sponsors/beneficiaries detail their expectations in such a manner as to ensure that the providers fully comprehend their needs, enabling well-crafted outcomes to be developed.
In essence, benefits realisation is no different to many endeavours and is subject to the age-old adage 'garbage in garbage out'.
Such processes must also offer sufficient flexibility to enable team members to be engaged in the 'hands on' contribution to P3 outcomes through smooth interaction with the processes adopted.
To establish effective outcome management, the organisational requirements will include the ability to:
Identify P3 activities falling into program areas requiring broader investigations such as environment, heritage, government planning initiatives, longer-term organisational strategic planning and whole-of-life asset maintenance and disposal
Integrate current procedures and protocols including procurement, financial, risk management and workforce planning
Provide desktop program level performance evaluation
Evaluate needs and commit to ensuring resources are competent
Understand schedule/cashflow relationships and forecasting, particularly where benefits are quantitative
Identify increased efficiencies through analysis of task effort/duration
Maintain issues logs and incorporate risk mitigation strategies into work schedules
Identify stage gate evaluations where benefits may be progressively reviewed and confirmed
Create a meaningful lessons learnt repository capable of influencing processes
These desirable attributes will require a comprehensive understanding of the capacity and capability of the selected system used to interrogate and manipulate such data.
Also, having confirmed through the P3 cycle that the intended benefits will be realised, there remains a need to determine where the responsibility rests in monitoring performance outcomes over time, given that not all benefits are immediately provable on the completion of a program or project. This suggests that some standing resources will be required.
Integration and affirmation
In some instances, P3 managers may need to consider the ability to integrate with major service supplier systems. This may influence, to some extent, the process selected and a survey of systems being used by interacting consultants and contractors may be beneficial.
In addition, this would be helpful in ensuring that the monitoring method selected has the capacity now, or at a future time, to interface with other business systems.
In terms of integration with P3 delivery methods, other aspects that are required to be finalised, or be at an advanced stage of completion prior to the design of an appropriate Benefits Realisation Management System (BRMS), include:
A defined P3 Management Methodology (PMM)
A clear organisational understanding of the PMM (see Figure 1 below)
P3 Management e-Manuals and guidelines
The allocation of responsibility for the operational effectiveness of the tools to be incorporated into the system
A competency development regime to secure knowledge of the why as well as the how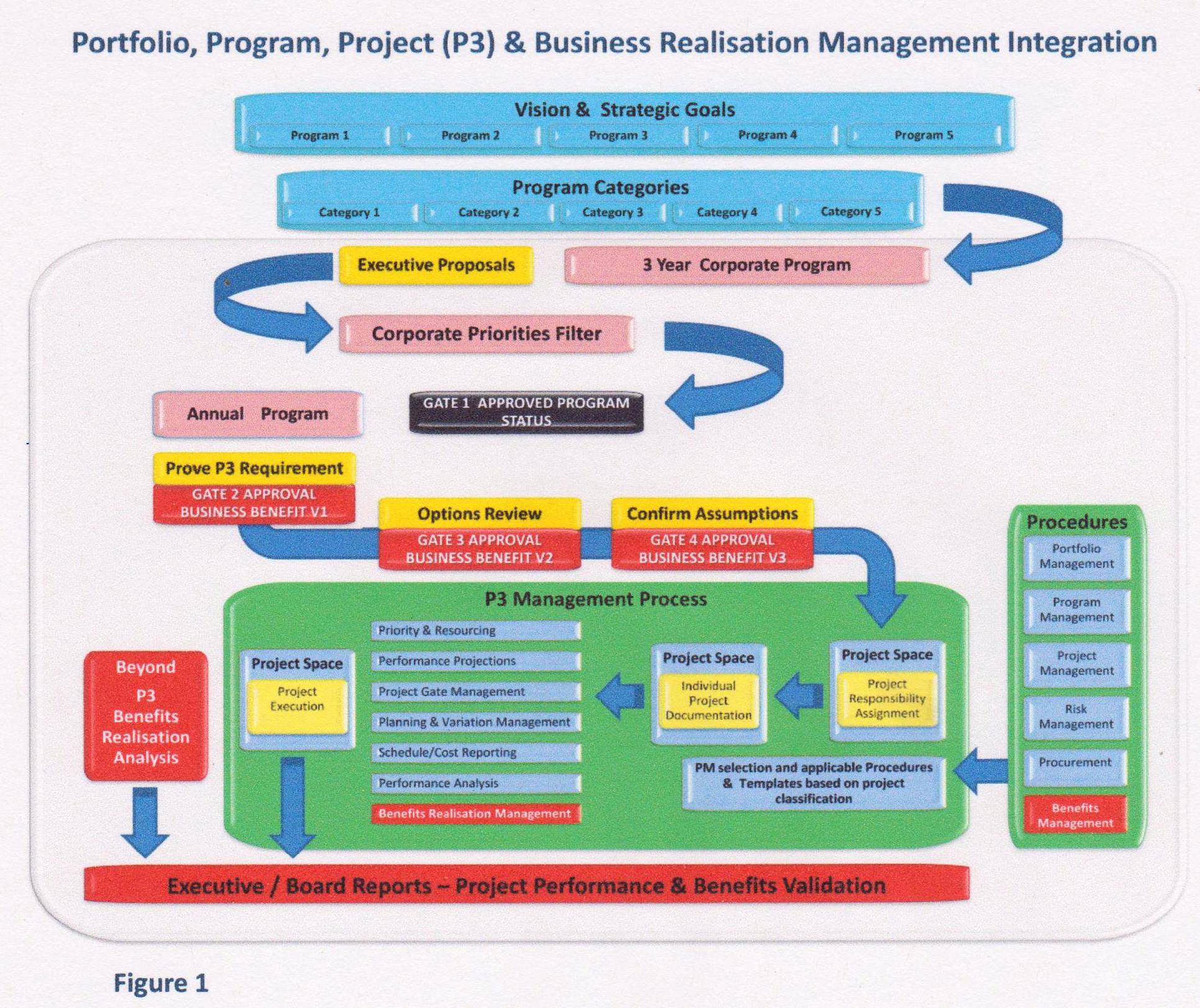 In determining how benefits tracking is to be managed it is useful to integrate as much of the current practices as might be practicable. Unless an existing system is completely broken or discredited, this assured users of some degree of familiarity and mitigates against employee apprehensiveness and the opposition encountered in the implementation of any new processes.
To evolve a BRM, it is therefore essential that there is:
Approval and reporting requirements for each managerial level (board, EGM, GM, PM) and these are to be defined at the program and project levels
Development of BRM procedures which integrate into the existing process
A comprehensive statement of requirements with key performance indicators to ensure compatibility between BRM requirements and any software integration
A PMM manual (including stage gates) and templates that recognise the BRM hold or review points
Risks to consider
With any evolving process the inclination is to establish a standalone monitoring and control system to interact with P3 managers. Should this occur, project teams will regard BRM like siloed risk management processes—as another reporting barnacle disrupting 'real work'.
To mitigate such a risk, benefits management, and risk management for that matter, needs to be undertaken as an integral part of the portfolio, program and project matrix.
It would be unfortunate if the potential benefits of such a program were frittered away, as has been the case with many risk management procedures that have evolved into unnecessarily complex specialist driven processes completely separated from the P3 work stream or, as I recently heard described, "a separate additional task to be done to enable us to get on with the real work."
The demand for effective outcome performance management through Benefits Realisation Management is increasing but the limitations on resources supports its integration as a component of existing work practices.
This requires a revised thinking as, traditionally, temporary project teams created to execute a work activity usually have little interest in benefits outcomes. To better define benefits and manage outcomes, the opportunity should be taken to develop processes and systems which integrates within the P3 workspace and infuses the understanding and commitment necessary to achieve the business outcomes sought as well as time, cost and quality imperatives.
Effective business benefits monitoring and assurance will only be achieved as an integrated component of the P3 processes.