Brookfield Multiplex delivers science project
Global construction firm Brookfield Multiplex has completed its $102 million Melbourne Brain Centre project in Parkville, Victoria more than three months ahead of schedule.
The Melbourne Brain Centre will accommodate 500 staff from three medical research organisations: the Florey Neuroscience Institutes, the Mental Health Research Institute and The University of Melbourne's Centre for Neuroscience.
"We worked closely with the Melbourne Brain Centre's project partners and strategically staged construction to ensure minimal disruption to daily life on the Parkville campus," said Dean Lockhart, regional managing director for Brookfield Multiplex, Victoria.
"Other challenges included logistical coordination of site access from a major arterial road and tailoring our methodology with an arborist to minimise potential impact on the heritage listed elm trees on Royal Parade and the protected plane trees within the university grounds."
The centre, designed by Lyons Architects, is the first laboratory building within an Australian education facility to achieve a 5-star Green Star rating.
"We are proud to deliver this landmark sustainable laboratory building. It reflects our mandate to continue to innovate and lead sustainability in the property arena," Lockhart said.
The 11-storey building combines almost 19,000 square metres of office space with a controlled environment for laboratory work as well as underground parking, an auditorium, art gallery and custom built Magnetic Resonance Imaging (MRI) facilities.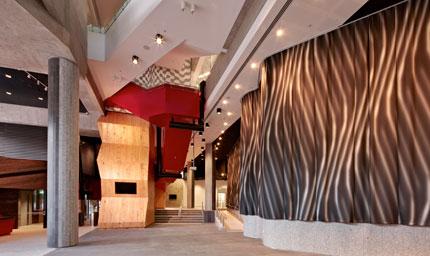 "We worked collaboratively with our consultants to design and construct the complex building façade, one of the key ESD [ecologically sustainable development] features of the building," Lockhart explained.
The façade reduces heat gain through precast concrete panels, double glazing and sunshades, and the ventilation has been designed to operate efficiently as a mixed-mode system with openable windows providing fresh air at suitable temperatures.
A co-generation plant provides power resources using natural gas, reducing emissions by approximately half compared to grid-based electricity.
Brookfield Multiplex is also the contractor for the University of Melbourne's Peter Doherty Institute for Infection and Immunity, also located within the Parkville Precinct.
Its increased focus on the health sector also sees its involvement in high profile construction projects including the $2 billion Fiona Stanley Hospital in Western Australia and the £840 million Glasgow Hospital in Scotland.