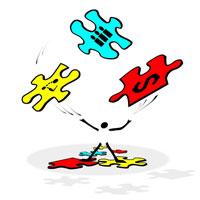 7 critical skills for project managers
If you're looking for a project management job, the list of skills that employers expect can be pretty daunting. Certifications aside, there seems to be dozens of skills required to do the job, and employers have high expectations from their applicants.
Don't be put off by long job advertisements. Broadly, employers all want similar things from a project manager: someone who can get the job done with good grace and who won't alienate the project team members. Technical skills are also important, but in reality there's a finite list of what a good project manager needs to do a good job, however they are dressed up in flowery language for the advertisement by a recruitment consultant.
Here are the 7 critical skills that every project manager should have.

1. Scheduling
What is a project manager without a plan? The project managers in your company probably walk around almost surgically attached to their project schedules, and being able to organise tasks in the right order to hit the right outcome at the right time is a major part of project management.
Along with scheduling comes monitoring the progress as the project moves forward and making tweaks to ensure that everything stays on track.
2. Resource allocation
Resource allocation is closely linked to scheduling. It may sound like all you have to do is type names next to tasks on your project plan, but in reality there is a lot more to it than that. You have to find the right people, and negotiate with their managers to ensure that they are available at the right time to work on their project tasks.
There's delegation involved when you give tasks to individuals to complete, along with possibly coaching them or organising training if they don't already have the skills. Then there are the technical aspects of updating the schedule, calculating whether someone is overloaded and balancing the work appropriately so that it all gets done without burning anyone out.
All of this takes excellent communication skills, not least so that everyone on the project knows what it is they have to do and why.

3. Risk management
Things go wrong on projects; experienced project managers know this and plan for it. Managing the unexpected in a calm way is another important skill for a project manager, even if it might feel that you are being pessimistic at times! Sitting around debating all the things that could trip you up with your team isn't the most cheerful way to spend an afternoon, but it's important if you want to get as prepared as you can for what might hit your project in the future.
On top of risk identification you also have to plan what to do about them. This involves using risk management strategies that are suitable for the risk and the appetite in the company or team for things going wrong. These action plans need to be incorporated into your main plan and tracked as well.
4. Budgeting
A project costs money, even if it is just your time spent on it. Increasingly, project managers are having to track their own expenses and budget, often without formal templates or support from the finance department. This also includes forecasting, especially if your project will last long enough to push some of the budget into the next financial year. As a minimum, you'll have to work out how to spend what you've been allocated and whether it is enough to deliver what the project sponsor is expecting.
You'll need to be able to use a spreadsheet application and have confidence that you know how to handle the numbers. There are also likely to be company-specific processes to follow to actually procure services, receive goods and spend money paying invoices. Some companies will expect you to use earned value analysis: it will say this in the job ad if that's the case, although if you don't have experience in this please don't let it put you off applying, as it is something you can learn once they hire you.