Vintage meets new media in bold fitout project
Convention is out and quirky is in for media agency Maxus, a global company whose office in North Sydney has just been refitted.
Fitout specialists Amicus Interiors and interior designers The Bold Collective collaborated with the client to achieve the unorthodox look on this project.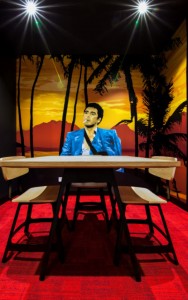 "Maxus had a clear vision for the fitout and the idea was to steer away from the standard office layout and create a space that enabled both staff interaction and client collaboration," said Andrew Holder, managing director of Amicus Interiors.
Although the design contained vintage features including leather-clad chairs, staff lockers, dining booths and an Al Pacino inspired wall graphic, the fitout was far from old school.
"Clients, particularly within the media sector, are increasingly pushing the boundaries of office fitouts. There seems to be a real drive to create a workplace that sits outside the conventional norms," said Holder.
As a result, the design is an eclectic mix of new, vintage, unconventional materials and industrial features and includes a cafeteria style breakout area, a hammock and a beer brewing station.
"We wanted to design something that was unique, bold and most of all dynamic so we used quirky elements and ideas to create a look that reflected the Maxus brand," said Monika Branagan, design director of The Bold Collective.
Unusual fitouts like this are a "great opportunity," added Holder. "These types of projects … can be quite challenging in their delivery. We were able to work closely with the design team to deliver an impressive result that was on time and within budget."