Project: ACT Health's Walk-in Centre
The Australian Capital Territory was approaching crisis point. A shortage of emergency department staff and general practitioners meant that patients needing treatment for a whole spectrum of ailments would have to wait their turn: those needing stitches alongside those with a sprained ankle. Something had to be done.
"We were looking at different ways that we could have treatment for patients, not using the traditional areas, to alleviate some of the pressures on EDs, but if we could help GPs that would be good as well," says Brenda Ainsworth, executive director at ACT Health.
In April 2008, then chief executive Mark Cormack saw a Walk-in Centre (WiC) in Bristol during a study tour of the United Kingdom and thought the model could work in the ACT. The centre would provide choice for patients who had minor illness or minor injury and "add to the system rather than take away," explains Ainsworth. She joined a team on a feasibility study tour of nurse-led centres in southwest England and London and returned determined to make it happen in the ACT.
English lessons
Ainsworth and the team took back lessons learnt from the UK, where the model had been operating for a decade. The first was the uniform layout of each WiC. "Although they have been set up in different locations and different structures—in Bristol it was a converted shopfront, whereas in Exeter it was co-located with the Royal Devon and Exeter Hospital—the physical layout was very similar. It was better from a patient's perspective to have a similar layout and processes because it gave a level of confidence. No matter where you were in the UK, it would be familiar to you to go to a walk-in centre," says Ainsworth.
She adds that because the UK's National Health System (NHS) requires patients to register under a GP before they can get treatment, WiCs offered the community flexibility. It also meant a demographic that usually didn't see a doctor—particularly men aged 18 to 25—would receive treatment, and it would be a way to promote health to them.
The other aspect the team needed to bed down was protocols for what the nurses at the centres could treat and what they should refer on. "They were very strict about that and that's what made it successful," says Ainsworth of the UK model. "We had a number of debates with our GP adviser who said 'if you see it, you should treat it', but it's a recognition of what we can and can't do. That's quite different for the health system: there's an expectation that if you go to a health provider then you'll be treated."
The NHS conducted an evaluation two years after the model began, just as they handed responsibility to the trusts that look after healthcare at a local level. The assessment was lukewarm, but solid enough to consider the model viable. According to Ainsworth, however, the WiC managers believe that it took 18-24 months for the centres to establish relationships with the local medical community, so "it was disappointing the evaluation couldn't see that they had robust relationships and were seeing a lot more patients" after that two-year period. Patient numbers were good in the first year, she reports, but "after two years they really saw the numbers jump as the community got used to walk-in centres being part of the health system".
New territory
Back in the ACT, Ainsworth and her team faced a huge challenge: winning buy-in from GPs and the Australian Medical Association. "To give them both credit, they never pulled out. There was healthy scepticism, there was quite a lot of discussion and challenge, but they could have fought us a lot harder," says Ainsworth. "We met regularly and from the beginning said we would continue to give them information and continue to ask for input even if they chose not to give it."
She acknowledges that the concept was confronting as it pushed traditional boundaries of who looked after whom, made difficult by a national debate about nurse practitioners and their role in patient treatment. Happily, the local branch of the AMA supported them, which meant the issue became whether they could attract enough nurse practitioners and advanced practice nurses for the centre, and develop appropriate protocols for them.
Creating clinical practice guidelines from scratch was a delicate balancing act, says Ainsworth, and needed to take into account the fact that advanced practice nurses, not yet authorised to treat patients autonomously as nurse practitioners can, would work in the WiCs too. The College of Nurse Practitioners thought the defined scope of service for the WiC was "a bit constrictive for nurse practitioners", while ACT Health had to create protocols that the rest of the medical fraternity would support. Fortunately, with much discussion and consultation, they found the fine line.
Technology was also a key component of the project. ACT Health was in negotiations with the software supplier for the UK centres, but eight weeks out from opening the firm pulled out, which meant finding a replacement. Ainsworth praises McKesson Asia-Pacific, a telephone triage software provider, which "worked tirelessly to get what we needed up and running for the establishment of the Walk-in Centre".
The last element was the education and training required for nurses who would treat patients in the centre, as well as use the new software. "No matter how experienced you were as a nurse, this was going to be a very different environment," notes Ainsworth. The project team scheduled in a training period and set up a program that combined theoretical and practical aspects of the role, and software training.
Seeing all the pieces fall into place is a source of pride for Ainsworth, who saw the concept become reality. She says "getting from feasibility to development" was the project's biggest achievement, and the community's positive feedback and use of the service is testament to all their efforts. It also shows how innovation can change traditional boundaries and add to the system, which opens up other avenues for the organisation to explore, she adds.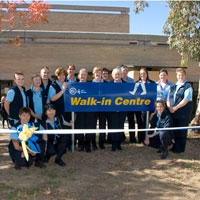 ACT Health's Walk-in Centre project was named 2010 Project of the Year by the Australian Institute of Project Management (AIPM) and also earned Ainsworth a 2010 ACT Telstra Business Women's Innovation Award, which heartens her considering health "tends to be known for failures rather than successes".
Achieving Project of the Year also recognises ACT Health and the project team, which works largely behind the scenes, she remarks. "And the judges would've appreciated that it was a difficult project, that it was the first of its kind, and that it did challenge some of the political things in regard to health."
Ainsworth also hopes the successful use of project management will act as a good example to the health sector. "We're all about treating the patient, because that is our core business. But to deliver to the next patient, not just the patient in front of you, you need to be conscious about how you're using your money," she notes. "Health tends to be reactionary and the project management framework gives you the ability to be proactive, to deliver on things. This gives us hope that if we keep working hard, we will have more solutions, more innovation and we will make the system better."