NSW in infrastructure project shake-up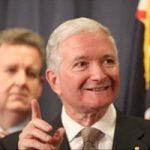 Infrastructure NSW chairman and former NSW Premier Nick Greiner (pictured right) says the organisation will be expected to shake-up the way projects are conceived in New South Wales.
At a thought leadership event hosted by the Australia Israel Chamber of Commerce (AICC) Greiner spoke openly about the direction the independent government-appointed body would take, citing developing integrated plans, breaking down silos and looking to the long term as three of the main aims.
"What the [O'Farrell] government inherited in infrastructure was a first-class shambles of global proportions. It was very siloed, very political and very short-term," he said. "We're looking for a genuine whole-of-government approach."
From plans to business case
One of the interesting things that Infrastructure NSW has found thus far is that the previous Labor Government "had so many plans that effectively it had no plan". Greiner describes the findings as a mish-mash with no clear, holistic direction. "There is a transport plan, it's not a meaningful plan: it's a collection of projects. Generally there is an obsession about individual projects," he says.
What Infrastructure NSW intends to do is bring in big picture thinking beyond the project level to the program and portfolio level. And that bigger picture has to have a strong economic justification, Greiner notes. "We have to make the plan meaningful. We have to make a plan that isn't just a set of projects, that does have some clear economic underpinnings."
Greiner indicates that driving economic growth and productivity should be the business case for any public project, much like the stance Infrastructure Australia has taken in recent times.
"If you look at Infrastructure Australia's work—and we think they're doing quite a useful job—the projects you need to look at drive productivity and economic growth. That's not exactly a stunning conclusion. Yet if you look at the projects in New South Wales being talked about and you look at the plan, they're not driven by that, they're not driven by where and how people will be working, the impacts of technology."
While these drivers form a salient business case, Greiner is also keen to marry this with the financial health and collective vision of the state and its governing bodies. "Rationalising the planning and introducing a strong economic underlay to this is essential," he says. "We're focusing on ensuring that there is integration. We have Treasury and the Department of Planning much more inside the tent: we're trying to create a whole-of-government approach."
And although the NSW Government will have the ultimate say in which projects go ahead, Infrastructure NSW will hold the information behind the green light, which means these projects will need to be defensible in the long run.
"If they want to choose projects on the basis of electoral popularity rather than the economic impact or the productivity impact, they'll choose what project they like," says Greiner. "What we're trying to do is give them an evidence-based view: what are the benefit-cost ratios, what are the projects that make the most sense in terms of an integrated infrastructure approach?
"The idea is to get beyond the electoral cycle and to do it based on not just good analysis but also good consultation. Infrastructure NSW has to have sophisticated consultation processes both with the community and with the social stakeholders because otherwise you won't get beyond the four-year electoral cycle."
This way, he says, everyone will know the basis on which the government made its decision and it will have to defend its decisions "in the court of public opinion".