The growth of PRINCE2 in Australia
The latest figures released by PRINCE2 accreditation body APMG-International show continuing growth in the numbers of students sitting PRINCE2 examinations in Australia. The total number of students taking PRINCE2 exams in Australia reached its highest ever level during 2011, with 10,642 students taking one of the three examinations—Foundation, Practitioner and Re-registration—representing a 19% increase over 2010 (see graph: Total PRINCE2 exams – Australia).
The continuing growth of PRINCE2 in Australia reflects the increasing global popularity of PRINCE2, as the de facto professional project management qualification of choice. More than 1 million PRINCE2 examinations have now been sat, more than any other project management qualification.
Since 2005, the number of students sitting PRINCE2 exams in Australia has grown more than 170% and looks set to continue in future years. The most recent figures show almost 6,000 sat PRINCE2 exams during the first half of 2012 and if the current growth rate of 13% continues for the remainder of 2012, more than 12,000 exams will be sat during the year.
As expected, most examinations taken were at PRINCE2 Foundation level with almost 7,000 students sitting exams during 2011 (see graph: PRINCE2 Foundation exams – Australia). First half figures for 2012 show almost 4,000 additional students took their Foundation exam. If this trend continues, 2012 will see another record year.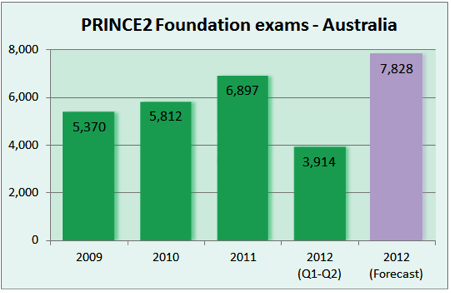 During 2011, almost 4,000 sat the PRINCE2 Practitioner exam and first half figures for 2012 indicate further year on year growth based upon the 2,069 students who sat their Practitioner exam during this time (see graph below).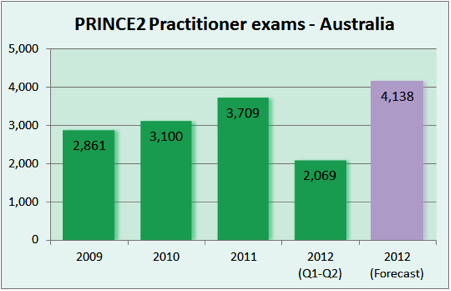 The number of students sitting PRINCE2 Re-registration exams during 2011 was only 36. Re-registration exams are only taken by students whose Practitioner status has expired, after five years of taking their Practitioner examination. The low number of such students is partly a result of the fact that much smaller number of students took Practitioner examination five or more years ago. It is also an indication of the low regard with which the Re-registration certificate is held.
Australia also represents the third largest market for PRINCE2, after the UK and the Netherlands (see graph: Proportion of PRINCE2 exams taken 2011). Whereas half of all PRINCE2 exams taken during 2011 were in the UK, 7.8% were taken in Australia compared with 6.6% in 2010.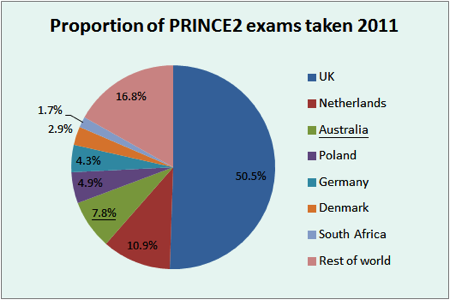 One significant development during 2011 was the launch of online PRINCE2 exams, enabling students to sit examinations at home using a remote exam proctor. In such a large country as Australia where people can live far from an examination centre in Perth, Adelaide, Sydney or Melbourne this is an attractive alternative to travelling long distances to attend classroom training and exams. This development is likely to assist the further growth of PRINCE2 in Australia enabling students the opportunity to become accredited while self-studying via e-learning methods.
PRINCE2® is a registered trade mark of the UK Cabinet Office.