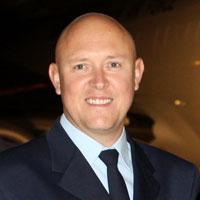 James Hood, the air force project manager
His contribution did not go unnoticed; Hood received a Medal of the Order of Australia in 2008 for his work on Orion and Wedgetail, having "consistently displayed outstanding professional excellence, dedication, loyalty, integrity and inspirational leadership to the Maritime Aircraft Upgrade and Wedgetail Projects, and also to the Australian Defence Force," according to the official version of events.
While proud of this achievement, Hood also admits to feeling "a little bit guilty" about the honour. "In project management there isn't really an individual achievement," he explains. "A project manager just pulls together the efforts of a lot of other people who do all the real work. Team awards are more sensible in the project management world. The OAM reflects on the teams of people I've worked with on those projects."
More than an engineer
Project management has certainly changed in the last two decades, Hood observes. "Twenty years ago the discipline of project management wasn't well defined, it wasn't thought of as a skill set, it was thought of more as a title—that's a real mistake. Today, it's very much a skill set that people train and educate for."
To acquire the right skills, he added to his engineering qualifications Masters in both Logistics Management and Corporate Leadership, which he took to enhance his soft skills before formal project management qualifications existed. "I consider myself a project manager," he states. "Engineering is a key discipline in our industry and we do a lot of the work with the aircraft that's technically complex, but project management is more encompassing than that. It's about doing all that in a coherent manner to deliver that capability. When you look at soft systems approaches, they bring a lot of strength to something that is very structured."
Hood is an advocate for more education in this area, to train project managers to be more comfortable with the uncertainties and ambiguities associated with interdependencies within complex project and programs. "I'd like to see increased skills in that sort of complex project management domain. Industry will start to demand these people," he believes.
However, less complexity is required in his home life, despite the fact that he admits to thinking of everything in terms of project management. "When you have kids, you think: 'I have Auskick here and netball there, how do I bring everything together?' You have to be careful because life is very soft and if you're too structured it bucks back a bit."
And just as he enjoys the people side of project management, so too does he enjoy company outside work, from "sitting around a fire with my mates" to skateboarding down the road, learning to surf, or kicking a footy with his nine-year-old daughter and seven-year-old son: "I love to play with my kids. Genuine family time is the highlight of my week outside of work."
Fortunately, it's never a case of choosing one or the other. Currently in the role of officer commanding the Wedgetail systems program office, which supports the aircraft in service and plans the upgrades, Hood is looking forward to seeing the aircraft in action.
"When the AP-3C performed well when it went to the Gulf, the team was immensely proud and I'm looking forward to the same feeling with this one," he says. "I get emotionally involved in the project, as does the family, as do the people involved with the project."